2022 E-WEEK INNOVAQUEROS CHALLENGE
THE CHALLENGE
Here is the CHALLENGE!
Help us reimagine your dream classroom!
Imagine that you can create your dream engineering or computer science classroom, your ideal learning environment. You may focus on a specific course or create a classroom ready for any course. Look around, think about your own experiences, what did you like, what could you improve? You are in charge, you can create, change, or modify your classroom, the layout, technology, equipment, furniture, even the teaching approach. You can use existing equipment, hardware, software, etc., or create new ones, use your creativity to innovate! You can propose a whole new classroom or focus on some aspects of the classroom you want to improve.
SHARKTANK
You are invited to the 2022 InnoVaqueros Innovation Challenge Sharktank event where we are going to reveal the innovation challenge.
The event will be held in the Makerspace EENGR 2.454, you are welcome to join in person.
You can also join us via Zoom using this LINK.
Dr. Jesus Gonzalez has reserved Salon Caria (BMAIN 2.402) in the Brownsville campus to connect to the Zoom event.
Either in person or virtually we want to welcome you to the Sharktank event where students will present their innovative solutions and then engage with the Sharks in a Q&A session. This Sharktank is always a lively and engaging interaction that is enriched with a diverse and multidisciplinary group of Shark judges and students.
KICKOFF EVENT
Here is the recording LINK Passcode: %UPzL2t$)
Greetings, Students!
The 2022 InnoVaquero Innovation Challenge competition is part of the E-Week activities. Any current student (grad, undergrad & any department) in the College of Engineering & Computer Science can register a team & participate. The actual challenge will be revealed to registered teams on Friday, Feb. 18 at 12 pm (noon) during the Kick-Off session.
We encourage students to participate in this exciting event that promotes innovation, design & creativity while solving a real-life problem using engineering & computer science knowledge.
TEAM REGISTRATION
*** To Register, click HERE.
QUESTIONS
Dr. Noe Vargas Hernandez  noe.vargas@utrgv.edu
<![if !vml]>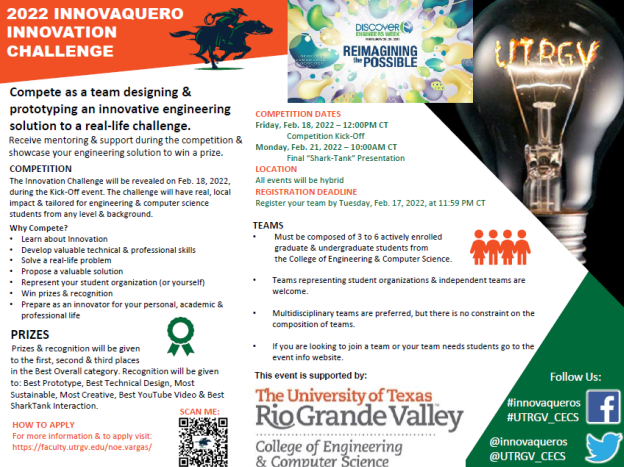 <![endif]>
Mechanical Engineering Freshman & Transfer Student Onboarding Boot Camp
The Fall 2021 Boot Camp was a success, you can watch the highlights here:
https://www.youtube.com/watch?v=0jmcxuGwKL8
2021 E-WEEK INNOVAQUEROS CHALLENGE
The event was a success, congratulations to everyone that participated, these are the results:
TEAM

VIDEO

CATEGORY

RGV Engineers

Most Innovative

The Mechanizers

Best Video

The Mechanicals

Most Creative Idea

ENGT Industries

Best Technical Idea
Best Sharktank Interaction (Q&A)

DEEA

Best Business Idea

EDD 2.1

Best Community Engagement Idea
Keep tuned for the next InnoVaqueros Challenge.
2020 E-WEEK INNOVAQUEROS CHALLENGE
The event was a success, congratulations to everyone that participated, these are the results:
EDINBURG
| | | |
| --- | --- | --- |
| TEAM | VIDEO | CATEGORY |
| The FRL's | | Best Overall and Best Prototype |
| JJ CLAN | | Most Creative Youtube Video |
| IEEE N.E.S.T. | | Most Active on Social Media |
| Vaquero Tech | | Most Engaging Presentation |
| Team Galactic | | Most Creative Project |
| | | |
BROWNSVILLE
| | | |
| --- | --- | --- |
| TEAM | VIDEO | CATEGORY |
| Nova Team | | Best Overall and Best Prototype |
| Intimidators | | Most Creative |
| IEEE | | Most Engaging |
RESEARCH PROJECTS
Dr. Vargas is interested in design related projects, if you want to learn more contact him at noe.vargas@utrgv.edu
Example: Boot Project
APPOINTMENT REQUESTS
You are welcome to stop any time by my office EENGR 3.272, please check my office sign status:
<![if !vml]>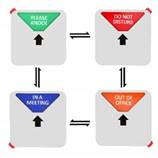 <![endif]>
Don't leave it up to chance and request a meeting with Dr. Vargas:
<![if !supportLists]>1. <![endif]>First check current meeting availability here: https://doodle.com/mm/noe/book-a-time
<![if !supportLists]>2. <![endif]>Then email Dr. Vargas with meeting options at noe.vargas@utrgv.edu
INNOVAQUEROS MAKERSPACE LINKS:
TOOL LIST always check here for latest list.
SCHEDULE:
The InnoVaqueros Makerspace will be unavailable on the following dates:
<![if !supportLists]>· <![endif]>None
ABOUT DR. VARGAS
<![if !vml]>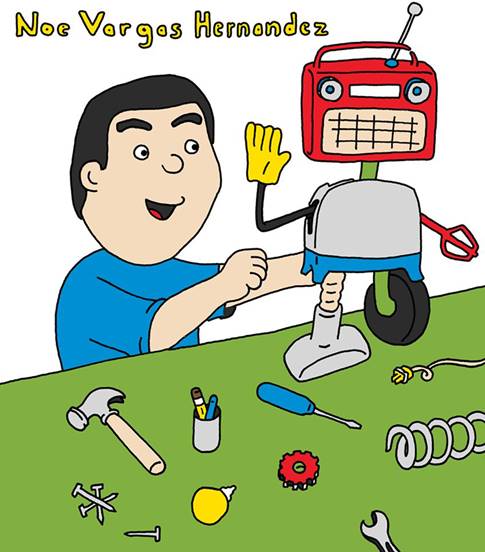 <![endif]>
"I was a very curious kid—and that sometimes got me in trouble. I wanted to know how things work, so I took apart radios, toys, almost anything! The problem was putting it all back together—but over time, I got better at hiding my mischief, so my parents stopped noticing. I also created machines, contraptions, and castles, most of them using imaginary components. This creativity is why I chose to study engineering, but sometimes, as engineers, we focus on how things are going to break and fail, and we forget the curiosity that got us started. Caution is necessary for safety, but sometimes we learn to limit our creativity. Now I am a professor, and I have the best job I can imagine. I teach students how to design cool stuff! And a great part of my job is to help students bring back their creativity and curiosity. It's somewhere hidden, probably in their inner child.
To any kids reading this: Never stop being curious! Ask questions, investigate, speak out, create, invent—even if people around you tell you your ideas don't make sense or won't work.
To the parents: Remember how much fun you had as a kid? Don't get upset with your inventive children. Just make sure your kids are safe, encourage them, and even get involved along with them—not as a parent, but as just another kid." — Noe Vargas Hernandez, Ph.D.
#KidInventorsDay — at Carnegie Mellon College of Engineering.
CONTACT INFO
office 956 665 3727
cell 915 603 8130
office: EENGR 3.272
<![if !vml]><![endif]>

Noe Vargas Hernandez, Ph.D.

Assistant Professor

Department of Mechanical Engineering

(956) 665-3727 noe.vargas@UTRGV.edu

Brownsville • Edinburg • Harlingen

<![if !vml]><![endif]> <![if !vml]><![endif]> <![if !vml]><![endif]> <![if !vml]><![endif]>